In June, the next generation Ford F-150 was officially launched. The bestselling car in the United States has been completely redesigned. Both inside and out, the 2021 F-150 has a new look.
Exterior
The redesigned grille combined with newly designed headlights give the 2021 F-150 a fresh image. It's based on its predecessor, but considerably modernised. The LED daytime running lights resemble the brackets [ ] on a keyboard. In fact, every exterior element has been thought through in the new design.
The tailgate is equipped with all the conveniences for it to be used as a workplace for contractors, for example. Of course, this workstation has also been designed with power in mind, so there are a number of different power connections available in the cargo bed. In addition, for the first time, the tailgate can be closed automatically.
Interior
The interior of this popular pickup has been totally redesigned. Starting with a larger, 12-inch touch screen for all kinds of infotainment. The interface of this infotainment system has been upgraded and has a much more dynamic look. The high-resolution digital instrument cluster (also 12-inch) is also new and the multifunction steering wheel has been redesigned.
The driver and front passenger seats can be reclined into a real "lay flat" position, so that you can even sleep in the new F-150. There's also the option of converting the centre console into a workstation with space for a laptop, for example. To make room for this, the gearshift can be "folded away". Finally, the workmanship of the seats is of the highest quality. Ford has really focused on details here.
Technology
Ford hasn't rested on its laurels in terms of technology either. The 12-inch touch screen is equipped with the updated SYNC 4 infotainment system. It also has Intelligent Adaptive Cruise Control. This makes driving even more comfortable in traffic jams, for example, where braking, accelerating and staying in the right lane is automatic, if you like. Where you currently need a cable for Apple CarPlay and Android Auto, they'll work entirely wirelessly in the 2021 model.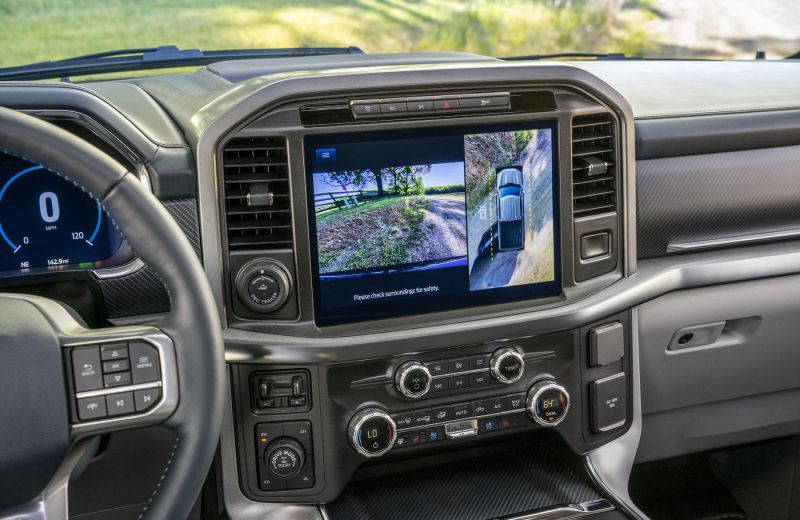 To make the car more aerodynamic and thus more economical, Ford has introduced "Active Shuttes" in the grille at higher speeds and a "Front Air Dam" (under the front bumper) which folds down at low speeds.
Hybrid
The 3.5 V6 EcoBoost and 5.0 V8 engines remain as they are. However, a hybrid engine, which will be based on the 3.5 V6 EcoBoost engine, is coming. This engine will be called the PowerBoost. The combustion engine will be assisted by a 35 kW (48 hp) electric motor, which is powered by a small battery pack of 1.5 kWh. This drive automatically switches between the electric motor and the petrol engine, or selects a combination of the two, depending on the "driving mode". The battery is charged automatically by regenerating power during braking, so there's no need for a charging plug. This hybrid engine has even more power and torque than all previous engines, according to Ford. Each of the engines come equipped as standard with the 10-speed automatic gearbox, just like we're used to from Ford. We know that Ford is also working on a fully electric version, but this won't be available un